Traditional website design agencies usually create websites that are built and then not updated for years at a time. It is often forgotten that websites should be a constantly evolving part of your business, with new pages and content regularly added to ensure the site is accurate and engaging for your users and search engines.
The concept of Growth Driven Design is to adapt your website using data and analytics to make sure you're getting optimal results. GDD is an investment that creates constant growth across a period of time, you edit your website as you get more successful.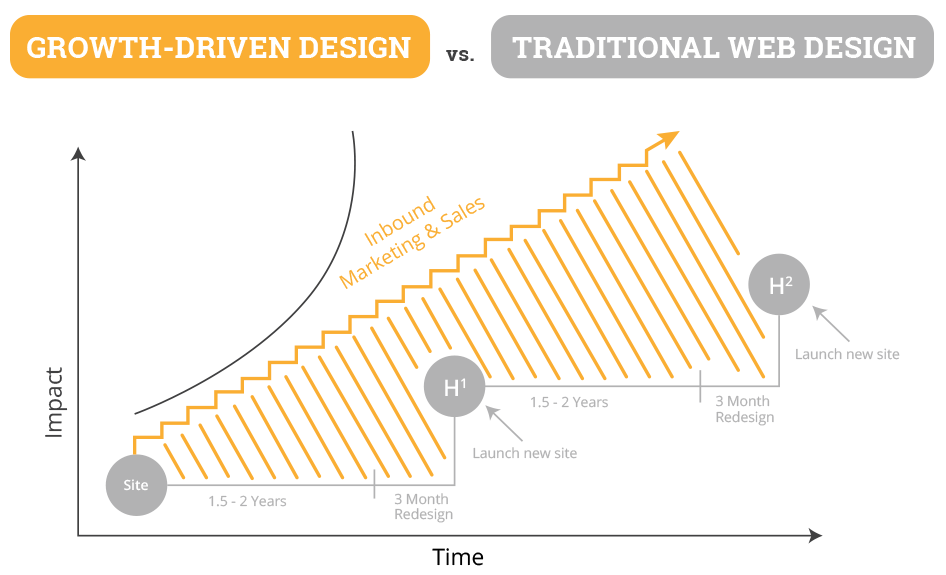 Launch Pad Website
A Launch Pad is when you create a new website that outperforms your old one, but basically acts as a phase one of your redesign process and is not the final site, call it a starting point, if you will.
Your launch pad is your website's foundations which you can build, develop and optimise from, here's just a few of the reasons to have a launch pad website:
Stop Making Guesses, Start Getting results
You can collect tangible user data to help you make informed decisions moving forward. Create a website that is tailored by user analytics, feedback and data, not guesswork.
Reduce Your Risk, Costs and Time
Your upfront commitment with a growth driven design agency is significantly less and allows you to spread your expenditure over time. This not only lowers the costs to the business, but also means you don't have to set aside months on end to develop your site and place your other operations on the back burner.
Faster Time to Value and Return on Investment
Growth Driven Design Launch Pad projects as a whole are significantly better for seeing results in a shorter period of time, starting with their reduced launch time through to the data driven end product.
Less Stressful and Straightforward
Launch Pad websites are highly creative, collaborative and offer bite-sized tasks that break down the stressful process of creating a whole site into an enjoyable, efficient and effective project.


If you are interested in learning more about how growth driven design can benefit your business, get in touch with our team.