I'm a Londoner, born and bred and I've spent 10 years working in London PR agencies. I loved my time in London, but the 2.5-hour commute and rising rental market were getting on my nerves, so, four weeks ago, I moved to Southampton.
To be fair, Southampton is a big city and fairly like a London suburb. There is loads of arts and culture here and I have a 'sick' view at home, for half the rent and double the space.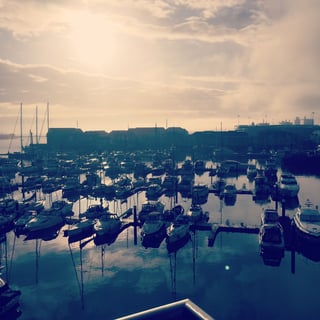 My 'sick' view
I, like many others, was worried that the agencies down here would be a bit… well… behind the times, like no one would be on Instagram and they'd still have a fax machine. It turns out they are the same if not better than London agencies and they have the bonus of not being completely up their own arses – it's quite refreshing!
To be fair, there are a few things that are different, like the agency culture. Everyone drives to work so there's not much of a party atmosphere and people choose to spend time at home, with their families, rather than mess around the office on a Thursday night. However, after speaking with other marketers in the area, I found the most alarming difference to be this underlying fear of London-based agencies and a sense that regional ones just aren't quite as good. I think Brcekenridge handles this well but, if you're someone who does believe this, even in the darkest corners of your mind then I have one thing to say to you:
IT IS RIDICULOUS!!! STOP IT!
Yes, it is ridiculous and all clients and agencies should stop it at once. There is no reason at all to feel threatened or, just-not-as-good, as London agencies. The biggest problem we face is that those in London do laugh at regional agencies, I've witnessed it personally. This means that regional agencies need to fight harder than their big city counterparts and here are some quick changes you can make to help yours/our cause:
1. Stop playing down your talent
The marketing industry is becoming a fully-flexible, home-working environment and with the last £300,000 house being sold in London this month, the city's talent is moving out and looking for agencies up and down the country to join. Here at Breckenridge we have some unbelievable talent – SEO experts, Inbound marketers, graphic designers, creatives, web builders, social media wizards and PR consultants. The guy who sits next to me has a 300,000 follower Instagram account and our SEO guy founded a YouTube channel which now has over 1,000,000 subscribers. I mean, these creds are fantastic, and we know it - we tell clients all the time. We encourage our team to network and we support them in building their own profiles - promoting them as experts in their fields.

Miles has 300,000 followers on his Intagram
2. Stop worrying about your travel bills and get yourself out of the county
I've had a chat with quite a few agencies in the area and noticed that they live in this little Hampshire/South Coast bubble. They talk a lot about potential clients in the area, it's sometimes like they think being local that is their only USP. London agencies travel the world looking for clients, think bigger, the more local clients you have the more you'll pigeonhole yourself as a local agency and therefore never get a chance to pitch for the bigger accounts. Recharge your travel where you can, get a National Rail discount card and burst that regional bubble you're sitting in.
3. Stop charging less
A lot of clients go to regional agencies because they think they'll get a better rate and there's this perception that a London agency will try and rip you off as much as possible. The truth is London agencies do charge more. Okay, our rent is cheaper, but that's not our problem, our talent and time is worth just as much.
4. Stop talking about being a regional agency
Don't even mention it in new business pitches. Some in-house decision makers will be snobby about it and immediately dismiss you. The most important thing is that you can do the job, do it well and have a good understanding of your client's business objectives. Yes, at some point you should mention it and if your client is going to have to spend £500 a month getting you and your team up for monthly meetings then this might lose it for you, but in a globally connected world most clients will see your location as a secondary issue – don't force yourself to fall at the first hurdle.
The only difference I've found between London and regional agencies is confidence.
I've sat opposite our Client Services Director, for four weeks now and he is going to new business meetings every day; it's insane, I've never known anything like it. The directors here have complete confidence in their team, and don't see agencies as a threat, just because of their postcode.
Want to know more or got any questions?