If you are looking for a marketing agency that works, look beneath the bonnet – check core values and drill down for evidence to substantiate claims. Do your homework: ask questions, make phone calls, send emails, gumshoe your way across the internet.


The more you burrow, the more trustworthy agencies will rise to the surface and the Which Marketing Agency? puzzle will be solved. Also trust your instincts – we have them for a reason.

Core values to look for:
Desire for success – for the agency and their clients
Progressive – constantly steering to improve
Being the best – continually striving for excellence
Sense of fun – enjoying what they do
Pursuit of knowledge – consistently on top of latest trends
Pure professionalism – in how they communicate, at every level
Innate confidence – direct result of experience and expertise
Natural creativity – originality gets more attention and starts the sales process

Evidence to look for:
Case studies are trackable proof that an agency is not puffing hot air. Also check their client retention record. Repeat business, the more enduring the better, demonstrates that an agency has practised a sound, 5-stage marketing journey comprising Brand Awareness – Recognition – Trial – Trust – Loyalty.

Take these 3 examples of lasting client retention:

#1: The Stannah Group of Companies: with Breckenridge for over 30 years
Breckenridge delivers the whole spectrum of services to help sustain Stannah's UK-market leading status:

web design, optimisation, ongoing updates and support
advertising
graphic design
digital services
marketing
PR/copywriting
photography/video
Stannah Lifts Limited
"We work in a varied industry, with multiple audiences, market sectors, technical product range and a complex company structure. It is difficult for an agency to grasp how we work and the marketing messages we need to convey. The beauty of Breckenridge is that they have that historical understanding, they know what works, what doesn't and who to speak to within Stannah to get the job done."
Jo Monro, Marketing Manager
A beauty of a Breckenridge testimonial video: 3 Microlifts in Liskeard Villas, Blackheath, London
www.stannahlifts.co.uk
Stannah Lift Services
"Breckenridge supports us in every aspect of our marketing and PR, making sure all our brand messages of capability and reliability are visible in our highly competitive marketplace. They meet all our demands and deadlines, supplying exactly what we need, when and where needed. We rely on them for advertising, web site services, online and offline brochure development, exhibition planning and design, and continuous PR support across 11 locations in the UK. Our marketing budget is in safe hands and delivers excellent value and results."
Ellie Lane, PA to Managing Director, Maintenance & Repair Division
A beauty of a Breckenridge case study: 5Rise Shopping Centre, Bingley, W. Yorkshire
www.stannahlifts.co.uk/service-and-refurbishment
Stannah Stairlifts
On the strength of our pedigree with Stannah, we were asked by world-leading stairlift manufacturer, Stannah Stairlifts to research, design, write and produce a bi-annual publication aimed at Stannah stairlift users. Four years in and it was shortlisted for Best Publication in the CIPR Pride Awards 2015, South of England and Channel Islands.

"Breckenridge is a great creative partner for us on StannahTalk and makes the whole process of producing a quality customer magazine that is welcomed by our clients a really easy, enjoyable process. They understand what interests our customers and we are happy for them to take the lead on this project knowing they will deliver first class output."
Fiona Neil, Marketing Manager

A beauty of a Breckenridge publication – StannahTalk:
#2: Titchfield Dental Health: with Breckenridge for over 10 years
Breckenridge is the marketing force behind this private dental practice with a reputation for providing first class patient care using the very latest, award-winning dental techniques. We work with them to help realise their vision to be the best private practice for natural-looking dentistry in Southern England.
web design, optimisation, ongoing updates and support
copywriting
patient video testimonials
blogging
How's this for a shout-out for Breckenridge's blogability:
"Wow! Wish I could write like that."
Dr Clare Chavasse, Practice Owner

"We relay interesting facts and not so interesting facts and fun things that happen in the practice and Breckenridge puts them into the type of words that people like to read… they are brilliant at making the ordinary, interesting and the mildly amusing, hilarious!"
Sharon Nanson, Practice Manager
A beauty of a Breckenridge video: Welcome to Titchfield Dental Health
www.titchfielddental.co.uk
#3: Itchen Sixth Form College: with Breckenridge for 10 years
Breckenridge delivers a range of services to support this vibrant community college. In particular, our PR capability played a key role in the October 2015 launch of their Creative Arts Academy, an all-singing, all-dancing facility dedicated to helping students transform aspiration and talent into reality.
web design, optimisation, ongoing updates and support
copywriting
marketing
consultation
PR
"Itchen College continues to benefit from Breckenridge's professional input. Their pedigree supports our reputation built on equal opportunities and excellent pass rates. It is a successful and enduring partnership that continues to help promote Itchen as an outstanding regional community College." Mike Viana, Marketing Manager
A beauty of a Breckenridge website: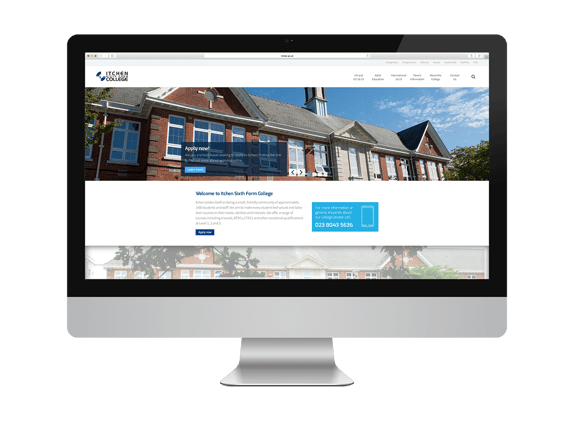 Why not complete the Which Marketing Agency? puzzle with a free inbound marketing consultation – a beauty of a Breckenridge service for savvy blog readers . . .