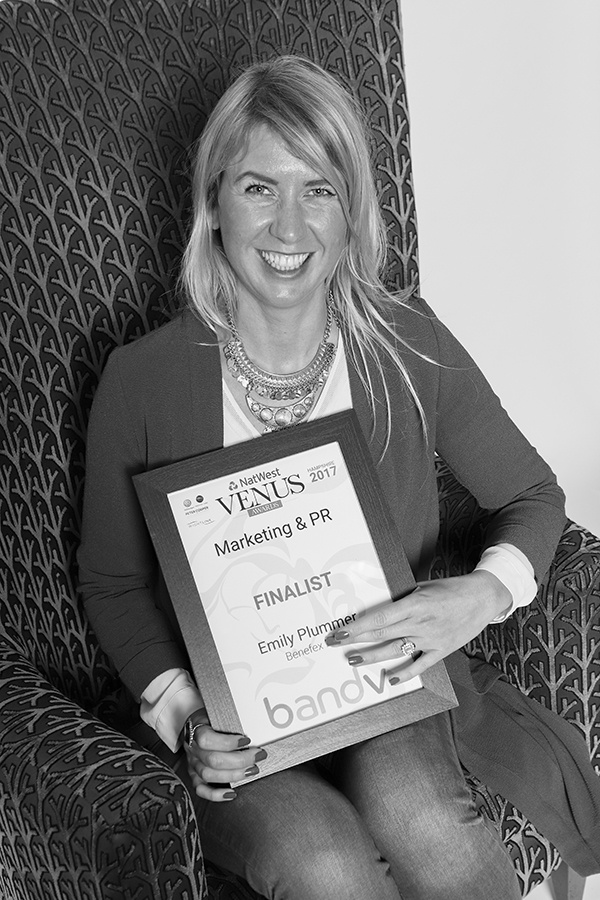 Emily Plummer is one of our fabulous finalists in the Marketing & PR Category of the prestigious Hampshire Venus Awards sponsored by bandv. Here, Emily reveals more about how she has successfully delivered an entire company rebrand since being promoted to the role of Marketing Director.
Benefex is a global Employee Experience tech business, and Emily's expertise in content strategy, brand design, PR, events, and social media has been instrumental in bringing Benefex to the attention of the wider world.
The success of Emily's repositioning of Benefex has been highlighted recently, with the company winning three awards in the InfluenceHR awards, held in Las Vegas last month.
The prestigious awards are voted for by LinkedIn and other global brands across the HR Industry, and at this year's awards, Benefex won 'Best Visual Identity', 'Best Website' and 'Best Video', as well as being presented with the accolade of 'Best in Show'. All huge achievements for the company which prides itself on being the employee experience expert, and one that consolidates its position as an industry leader.
Emily says,
"We are so proud that our fantastic brand Benefex is disrupting the world of human capital management, and that alone makes the months of careful planning and hard work worth it!"
At Benefex, the company is focused on the importance of the 'employee experience' as a path to 'employee engagement', which, up until recently was the main focus for HR leaders.
So how did Emily start with undertaking such an enormous rebranding project?
Emily explains the first steps,
"As part of the rebrand, Benefex needed a visual identity that represented this focus on 'employee experience'. The first step was to speak to our founder and CEO Matt Macri-Waller as this helped me to clearly establish his vision. The team then also spoke to some of our key stakeholders to ensure their views were heard.
We then commissioned a series of interviews with our existing customers as well as future potential new leads. We also conducted extensive competitor research as well as a careful analysis of lifestyle brands."
It was from all this research that a simple, yet compelling insight was born which became the central idea around which the brand was developed:
'People work at their best when they can be themselves. Sometimes, we put up barriers between our work and our home selves, but if we take them down, we can bring our own passion, personality, and pride to our everyday work. It's a continual assortment of loops – each one being a great experience.'
Emily explains that her primary goal was to ensure that everything visually reflected this idea of 'flow', and the blurring of the lines between work life and home life. It was with this in mind that the Möbius strip was designed. Named after a famous mathematician, it's a single continuous curve with only one side making the shape infinite with no divide. The team loved the idea of a shape that was in constant flow, and this was the catalyst for crafting the new Benefex brand; starting with the striking new brand logo and strapline of 'work inspired', before moving on to create the company's colour palette and typography.
With the new visual identity for Benefex now clearly established, it was then time for the company's website redesign and build. All Benefex key stakeholders were also heavily involved in this process.
Emily explains further;
"Our project was focused on an entire rebrand, and gearing our company's positioning towards a new market sector. The challenge was always to keep us feeling like 'us', while simultaneously elevating our identity to a standard which matched our exceptional software platform.
"We began by trying to establish the user, business and technical needs for the website through a series of brain-storming exercises. The research process was based on our two core target audiences, HR Directors/Managers/Administrators and Managing Directors/Office Managers.
"We then crafted user journeys for our key user groups as well as partners, investors and media. This helped us to keep the content development focused and relevant to our audience.
"The design of the new website followed the new Benefex visual identity, and a continual theme of loops and flow resulted in a fluid site design with soft lines and curves, reinforcing the idea of dynamic movement, and helping to bring the new website to life to improve the user experience.
"The response from our employees, partners, and clients has been outstanding. It's made a huge difference to defining our future, and has everyone in the market very excited (except for our competitors who are now Benefex-green with envy!)
"In a very short timeframe we have seen a vast improvement to our website traffic, bounce rates, and an 85% increase in page session duration."
The Benefex OneHub video launched this year was also a roaring success at the InfluenceHR wards, which Emily is delighted about:
"They say things come in threes, and the InfluenceHR awards has been a triple triumph for Benefex!
Our video was developed to 'Invite', 'Immerse' and 'Inspire', and I feel confident that we have successfully achieved this.
The video has been an instrumental sales tool, and is widely used by all teams to showcase our expertise."
Commenting on reaching the finals of the Hampshire Venus Awards, Emily says she is, "extremely excited to be a finalist and very much looking forward to attending the awards ceremony on the 11th November".
bandv would like to wish Emily the best of luck at the Venus Awards.
(Image by Zelda de Hollander from Studio Shotz)