On the 2nd of May, we visited the 2017 London Inbounder event and we just wanted to put together a short blog to highlight our biggest takeaways from the event.
Firstly, let's talk about what the Inbounder is all about.
What is the Inbounder?
"The Inbounder is the result of a convergence of diverse expert professionals with concerns in the sphere of digital transformation and culture, willing to share their knowledge. The brainchild of Gianluca Fiorelli, The Inbounder came into being with the goal of becoming a reference point in the inbound marketing world. Talks, road shows, think tanks and conferences are some of the activities we organise with the aim of ensuring that the experts' knowledge reaches everybody who is interested in the changes occurring in marketing and technology."
At the event, there was an array of top industry professional sharing their words of wisdom with us and it was also dubbed one of the top 10 digital events to attend this year so we were full of optimism going into the event that was founded by Gianluca Fiorelli.
Our Top takeaways:
Give your brand personality on Social and talk to your audience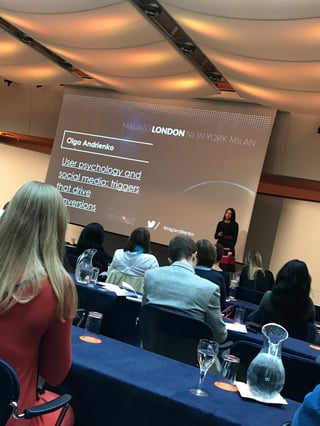 One interesting talk was from a lady Called Olga Andrienko who works at SEMrush and is the Head of Global Marketing. Her talk was all about User Psychology and Social Media. She spoke about how Perception of the brand and those who deliver it on social media are often different which can affect how the company is being perceived over social media. She made it clear how the person running your social media accounts should show their personality.
Olga's Handy Tips:
Broadcasting – it becomes difficult to drive visitors to your website through social media since social platforms want users to dwell on their websites
People like data – share screenshots from research you have done from users personal accounts
Employees are your biggest asset – ask them to share and tag them in content!
Colours matter in social media – check what colours to use and what they are associated with in the various parts of the world. Check out the different colours in culture for yourself: http://www.informationisbeautiful.net/visualizations/colours-in-cultures/
Take Inspiration from others work and recreate it
Another talk was from Hannah Smith who is the Head of Creative from Verve Search, her talk was fuelled with passion and her enthusiasm really shone through. One bit of advice we really took note from was to "Steal like an artist" – she told us to ditch our obsession with originality – it is OK to take inspiration from other's work and re-create it as long as you are adding something new and valuable to it not degrading it.
Hannah's Handy Tips:
Figure out where you want coverage and research what that publication has covered in the past then think about what topics you can talk about
Find things that you love = find things that provoke an emotional response in your audience
Figure out why people share content
Take a data driven approach to SEO and run split tests
Our last two takeaways are from Tom Anthony who is Head of Research and development for a marketing agency called Distilled. According to Tom Anthony you should take SEO best practices with a pinch of salt – don't blindly follow SEO best practices, take a data driven approach to SEO instead, run split tests and make informed decisions and remember that not every website is the same – what works for some might not work for others.
Tom's handy tips:
Research showed that ALT attributes had no impact on ranking
SEO best practices are no longer useful
It is important to take a data driven approach to SEO and test everything!
What works for one client might not work for another – Not every site is the same!
Machine Learning is a growth area
Tom spoke about how Machine learning is a growth area – there will be an explosion of SEO platforms using machine learning. He told us that you don't need to learn machine learning but you need to understand what it can do. Having a better insight sooner will be a competitive advantage. There are various categories of machine learning – Categorisation, Prediction, Clustering.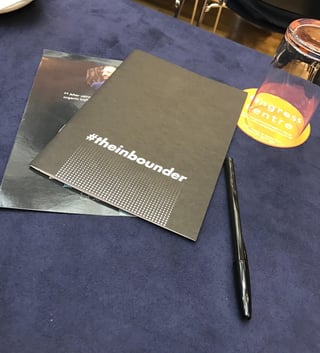 Overall, we took a lot from the event and now we can't wait to implement some of these useful ideas into our own agency.
---