HubSpot's State of Inbound is upon us and as an Inbound marketing agency ourselves we always look forward to digesting it, but for those of you who don't know what this is, it's a Business report for Marketing and Sales Research and its purpose is to uncover International Marketing priorities, latest content distribution trends, and buyer communication preferences.
Now that HubSpot has released their State of Inbound Report we have put together a short blog to tell you about our main takeaways from it.
Inbound is the primary approach for most marketing organisations
Now that we're in a digital age it's no surprise to find out that nearly three out of four (71%) marketers across the globe prioritise an inbound approach to marketing compared to any other form. So, if you're still on the fence about Inbound, this statistic alone should hopefully get you thinking about prioritising your marketing efforts to an inbound marketing approach.
The top marketing priority is converting leads into customers
According to HubSpot's research team 70% of marketers see converting leads into customers as their top marketing priority. It's interesting to see that in the past, marketing was concerned with generating leads, but we are now seeing the transition towards marketers helping their firm's close deals.
At 45% the Third biggest priority for marketers was increasing revenue from existing customers and 39 percent of respondents said that proving the ROI of marketing activities also continues to be a priority, we'll likely see this shift from cost-centre to revenue generator continue in the years ahead.
Companies are nearly four times more likely to see higher ROI on Inbound rather than outbound
Interestingly 46 percent (nearly half of the respondents) reported that inbound campaigns resulted in a higher a ROI compared to outbound efforts.
Only 12% of respondents reported outbound marketing resulting in a higher ROI than inbound efforts. 41% of respondents either couldn't answer the question of couldn't calculate ROI.
Outbound methods certainly still play a role in an integrated strategy, but we're starting to see outbound becoming more of a support to inbound instead of the other way around which is great news!
Traditional advertising is considered the most overrated marketing tactic
With today's tech savvy audience, it is no surprise that 32% listed paid advertising (print, outdoor, broadcast) as the most overrated marketing tactic but it's interesting to see that paid online advertising such as social media ads, PPC, etc…. was the third most overrated tactic with 11%, reinforcing the new realities of modern marketing being more focused on attraction-based methods.
A top inbound focus remains to grow SEO and organic traffic
When asked to think specifically about inbound marketing projects, growing SEO and organic presence was listed as the top priority for marketers, representing 61% of respondents.
53% of respondent's priority is blog content creation, which is a direct contributor to both SEO and organic traffic. This year, generating website traffic is not only the top priority, but marketers also see it as their greatest challenge to date.
Proving ROI remains is still a top challenge, but others are emerging
What the State of Inbound report told us was that Proving ROI remains a top concern for marketers with 40 percent of respondents stating this.
As mentioned earlier, generating website traffic and leads—with 63% of marketers saying it's their top marketing challenge.
Other challenges include securing enough budgets (28%), Identifying the right technologies (26%), Targeting content for an international audience (21%) Training our team (19%), Hiring top talent (16%) and finally Finding an executive sponsor (7%).
Video Marketing Is a Growing Priority
Recently marketers seem to be making the leap into visual content. Messaging apps and artificial intelligence are not far behind. This year, HubSpot's marketing data shows respondents are feeling the pressure to experiment with new and unpredictable technologies and craft more personalised communication than ever before.
Looking at the graph you can see which contribution channels were the biggest priority for people to distribute content over and it's clear to see how video content was the most important for participants with 48 percent saying they would add more YouTube content and 46 percent saying they would use more Facebook videos.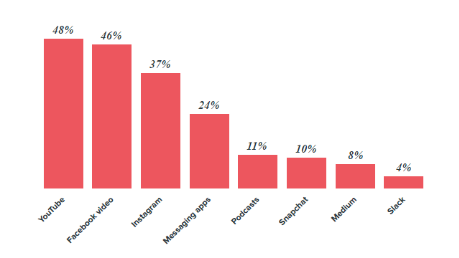 The latest HubSpot gave us a lot of food for thought and we're excited to see what the year holds for Inbound marketing but if you want to read the full HubSpot report click here and download your copy of the State of Inbound 2017 now.
---