Prophetic words from Gary Vaynerchuk— a major media, communications and marketing influencer who's switched on to social media's importance in the future of digital marketing.

But first, check out social media's active users—your target market


And still growing!
What will social media marketing do for your business?
With consumers spending around two hours daily on social media, it will ramp up your brand awareness by maximising your target market reach, telling them that your business is thriving and wired for communication.
Visual appeal: Increases the likelihood of people engaging with your content. 

Hashtags: For maximum exposure and engagement—keep them relevant to your niche and industry.

Content/posts: People respond to and follow quality, well-timed content which will build your brand and follower base. Don't over-post or post for posting's sake as this has a negative effect.
Lead generation: That all-important entry to your sales funnel.
Remember: 93% of buying choices come from social media.

Social Apps you MUST onboard
Instagram—trending big time
Why? It's a highly visual platform—a real eye-grabber. Generally aimed at and attracting a younger audience, Instagram's reach is not just US-centric—it's global.
Remember: With over 1m companies advertising on this platform, Instagram's an ideal tool to boost visibility.
Facebook—proven breeding ground for start-ups
A stand-alone business page will drive traffic to your website, but to work well it must be supported by paid advertising. FB also allows you to manage multiple campaigns.
Remember: Facebook advertising is cheap and highly effective.
Twitter—interaction, conversation, networking
This fast-paced social marketing platform helps you to build a following quickly and easily by engaging directly with your target market—following the right people, and starting and contributing to industry conversations (Twitter chats).
Remember: The video capability allows you to record and upload videos of up to 140 seconds.
LinkedIn—the world's largest professional network
Another lead generator populated by professionals—575m of them, with an advertising capability, sponsored content, in-mail and text ads, and a campaign manager to help you manage your ads.
Remember: LinkedIn helps you drive actions that are relevant to your business.
General Guidelines
Good looks grab eyeballs
Invest in creating the right impression as it's this that hooks initial attention.

"It takes less than two-tenths of a second for an online visitor to form a first opinion of your brand once they've perused your company's website."
Missouri University of Science and Technology

Remember: When it comes to social media marketing, looking good isn't shallow—it really matters.
Good words drive interest
Create a business biography that's compelling—interesting, informative and tailored to the channels' character counts, demographics and audiences. Be clear, concise and business-focused—geared to drive initial interest into action. Impress your audience and they will believe that your presence will bolster their content and feed. Include a link.

Remember: It's not about YOU—leave this to personal social accounts.

How often should you post?
Even if you have reams of gripping content, too much kills engagement, numbing people to your presence. Quality content and prime-time posting reap bigger dividends—and this varies for each social media platform, so you will need to bone up on this, too.
To optimise your social media smarts, get Breckenridge to design, implement and manage your online marketing strategy. We're a Google Premier Partner and a HubSpot Gold Certified Agency Partner, so growing your brand and ROI is in expert hands.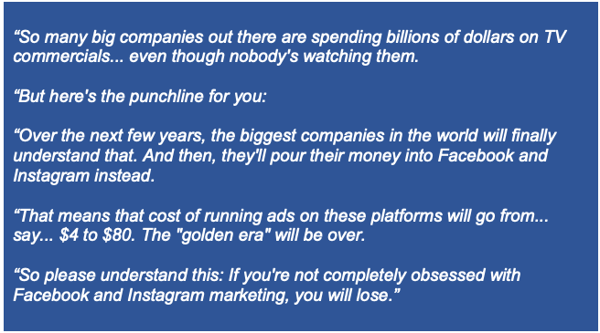 BE A SOCIAL MEDIA MARKETING WINNER...
... FOR A FREE CONVERSATION