Looking for the best support with your Inbound Marketing strategy?
Come to the next Solent HUG—Dancing Man Brewery, 19 June—and listen to HubSpot's Principal Implementation Specialist, Stephen Fuery—he's flying in from Dublin to speak on 'How to overcome the top five client struggles with HubSpot.'
THE PUBLIC PERSON
HubSpot's onboarding expert
Stephen works with new customers to help them get them up to speed with HubSpot marketing, sales and software, so his experience and insight is invaluable.
"I work with new HubSpot customers for the first 30-120 days, onboarding them in all aspects of the software to help their business grow without compromise. This generally involves scoping out their project, building a custom project plan and guiding them through every stage, whilst supporting them to avoid pitfalls. Typically, we will speak to a customer on a bi-weekly basis for approximately 30 minutes."
People-focused high flyer—from the start
Although Stephen's route to HubSpot was indirect, it was always people focused:
"My journey to HubSpot was a bit different to most. With a degree in Business & HR, I started my career as a Recruitment Consultant with Manpower, eventually progressing to Google to work in People Operations. I quickly realised that, whilst I loved supporting people, other aspects of the role were not so rewarding, and so I returned to university for a second degree in arts, specialising in Information Sciences. After this I completed a master's degree in Digital Media, which led me into marketing and thence to HubSpot."
"A killer implementation specialist"
There is no shortage of appreciation for Stephen's HubSpot capability. Here are just two of many testimonials from delighted clients that he has onboarded: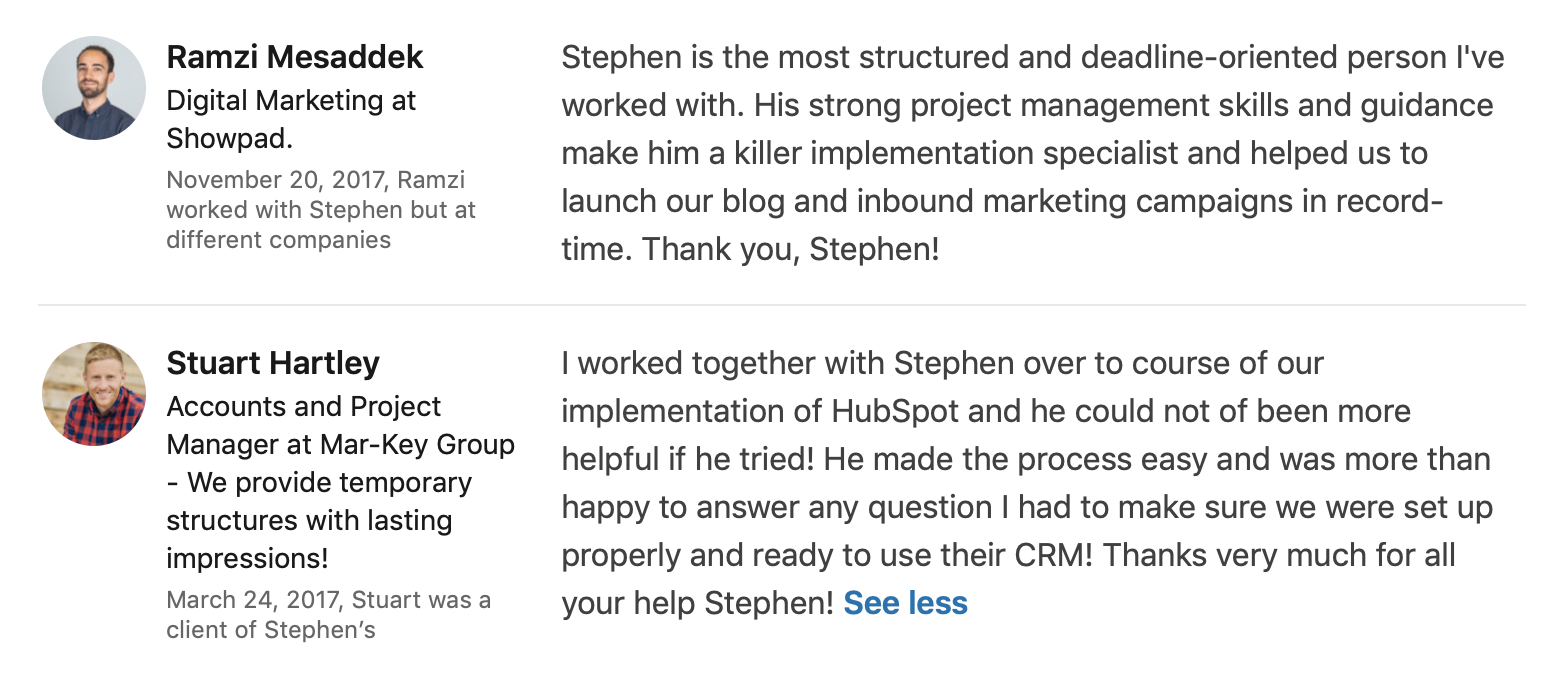 Stephen's vision
Although he is committed to HubSpot, its evolution and the opportunities this offers, Stephen keeps his options open:
"Part of the reason why I love working with HubSpot is that we are growing quickly. This means that there are lots of opportunities for us to try something new, take on projects and, of course, for those inclined, to progress to management.
"Personally, I don't know exactly what the future holds right now. I'm loving my current role; I travel quite a bit which is great, and I love speaking with my clients. In the immediate future I'm looking forward to my first visit to Tel Aviv at the end of June. In the distant future, I like the fact that it's not set in stone, that I'm going to continue growing as a consultant and that HubSpot has plenty of opportunities for me! Did I mention we're hiring? :)"
THE PRIVATE PERSON
Natural-born philanthropist
Outside of work, Stephen is also committed to supporting people:
"For the last 15 years I've been involved with the Order of Malta, a global organisation of volunteers who regularly give up their time to help others and support their community. In Ireland, the Order of Malta primarily operates a fleet of ambulances providing first aid and community support across the country. They have a Cadets & Youth section which is actively involved in the community, helping the elderly and disabled, both locally and internationally.
"They also attend first aid events with members of the senior units, such as Gaelic Athletic Association matches, fun days, athletics and other sporting activities. This organisation has really allowed me to give back to my local community and to develop skills like Leadership, Event Organising and Youth Leadership."
Natural-born conqueror
It seems that Stephen is a man who likes mega-challenges, personally as well as professionally:

"In 2014 I climbed Mount Kilimanjaro to raise money for the Order of Malta Ireland. It took nine days and was a spectacular experience, full of challenges. It showed me that, when I set my mind to something, I can achieve it. During the summit attempt we started climbing at 10pm and, unfortunately, approximately half way up my water and food froze. Thankfully, my friend Aoife shared her supplies with me, allowing us to reach the summit in time for the breathtaking sunrise."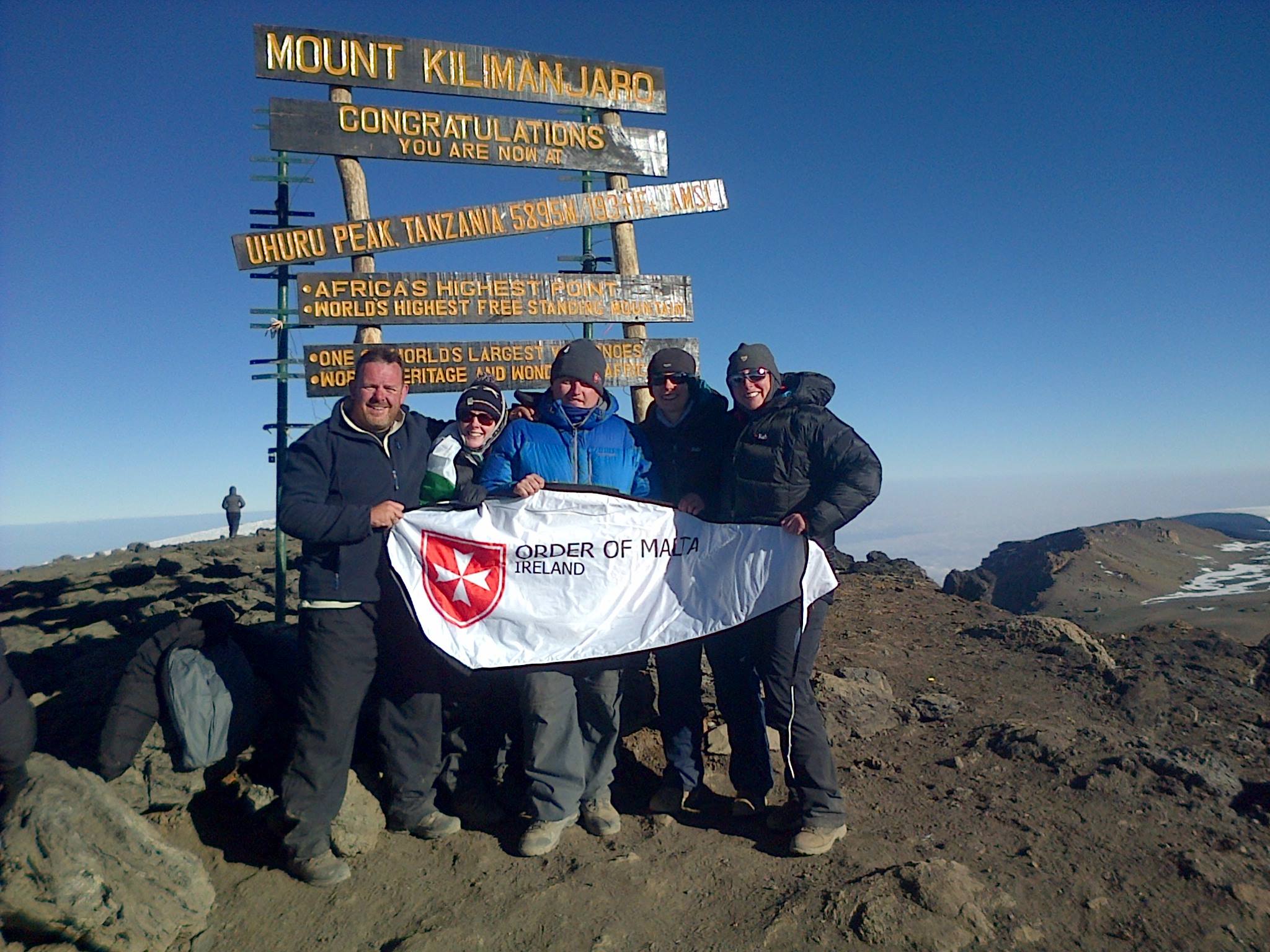 WHAT ABOUT THE SOLENT HUG?

"The Solent HUG is part of a large network of HubSpot User Groups across the globe. It's an excellent opportunity to connect, upskill and support customers, partners and anyone interested in Inbound Marketing. I believe that every customer should participate in their local HUG as it allows them to get best practice tips, recommendations and to create a community in the local area."


Meet HubSpot's Stephen Fuery at the Solent HUG—Dancing Man Brewery, Southampton, June 19—for expert inbound marketing advice (and beer!).



OR