We don't mean to brag but last Wednesday we had the pleasure of attending what turned out to be the largest and most successful Grow with HubSpot event in Europe.
An event series dedicated to helping businesses achieve remarkable growth through inbound marketing, Grow with HubSpot brings top inbound experts and HubSpot enthusiasts together to share their knowledge and gather inspiration.
We had a blast at Grow with HubSpot in London, absorbing the inbound knowledge directly from the source and speaking with as many of the 500 members of the HubSpot community that attended as possible. With informative and engaging sessions and workshops and enough room in between to exchange inbound know-how and business cards, the Grow with HubSpot event was exactly what the Breckenridge newly expanded team needed. The incredible energy and enthusiasm for inbound definitely rubbed off on us and we came back reinvigorated and keen to start applying what we learned. After a day packed with brilliant talks, inspiring speakers and frantic note-taking we had a lot to take away with us.
Being the generous crowd we are, we decided to share it all with you. Here is an overview of what we learned and heard, key takeaways from high-profile speakers and some insight fresh from the kitchen about the future of sales and marketing.
"Marketing has changed." - HubSpot CMO Kipp Bodnar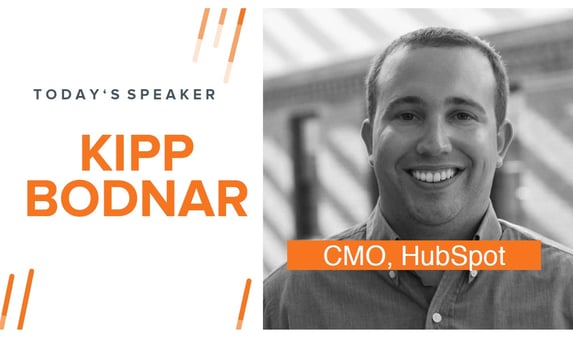 HubSpot CMO Kipp Bodnar was our personal favourite at the Grow with HubSpot event, bringing the right balance of expertise, energy and humour into his presentation about the changes that marketing and sales have faced over the last couple of years.
Kipp addressed the urgent adjustments all marketers and sales representatives need to make in their strategy with a grim statistic showing that marketing and sales professionals are amongst the least trusted in the EMEA world. And fairly so, he thought. Thanks to a history of bad practices such as cold calling and all sort of aggressive, unsolicited communication imaginable, marketing and sales people, alike, have lost connection with prospects and have gained the reputation of a bunch to be avoided at all cost. This is to show that impersonal outbound methods have, to a great extent, been exhausted.
Inbound marketing brings us the gulp of fresh air we so desperately need to bring ourselves up, regain the trust of prospects and delight customers. Inbound marketing strategy and practices not only help us to be regarded as decent human beings but so it happens that being more helpful to our leads and customers also works for our businesses.
Kipp had the numbers to support his claims too:
Marketers see an average increase of 20% in sales when using personalised web experiences
Relevant emails drive 18 times more revenue than broadcast emails
Because 61% of consumers say they feel better about a company that delivers custom content, they are also more likely to buy from that company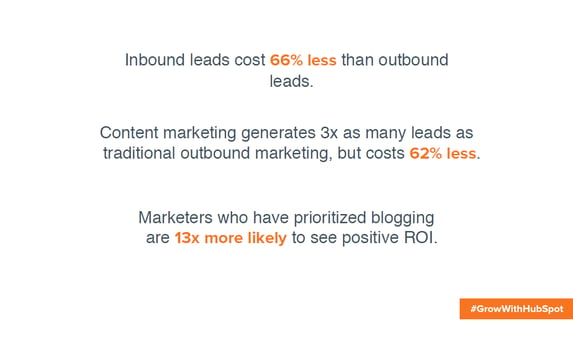 All it really takes is a simple shift in your mindset which has the potential of transforming your entire organisation and the way you do business. The sooner you start being helpful and start producing valuable content, the sooner you can start seeing those amazing results.
"Word of mouth is the best marketing channel you have." – HubSpot CEO Brian Halligan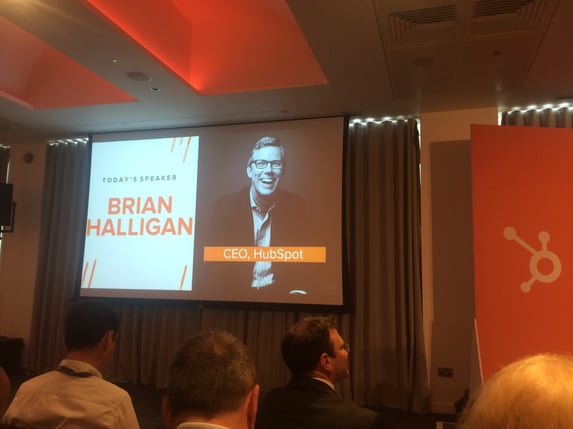 The true star of the event was HubSpot CEO himself, Brian Halligan. A legend in the inbound world, Senior Lecturer at MIT, a well-regarded author and a charismatic speaker, it is understandable that we were quite excited to hear from Brian Halligan for the first time.
Alright, "quite excited" might be a bit of an understatement. We were absolutely star-struck by him and practically a step away from waving our "We worship you, Brian!" posters from our third-row seats.
Brian emphasised a theme started earlier on at the event and stressed by many speakers throughout the day: Word of mouth is the best channel marketers have at their disposal.
Happy customers and prospects can work miracles for our businesses and the sooner we make it our priority to make prospects and customers happy, the sooner we will see the amazing results this can bring to our businesses.
A good first step in the right direction is to make it our mission to be helpful and to create valuable content that provides answers to our prospects' most pressing issues. It is good to remember that great content has a lasting value and every piece of content is an opportunity to get found and be found again and again. With his straight-to-the-point approach to problem-solving and snappy manner, Brian managed to deliver a whole course on inbound sales and marketing in just under 30 minutes.
Here are some of the words of inbound wisdom Brian shared with us:
Tips for today's marketer
Cold calling is a waste of time
Emailing works only if contextualised
Like it or not, you have to figure AdWords out
Website content is still king
Social and blog work well if you do it well
Don't bother building mobile apps
Give buyers a taste – We live in a "try before you buy" world
Tips for tomorrow's marketer
Be good at Fat Head SEO - Be the Answer!
Invest in Facebook
Private networks will take over social networks
Video content is exploding - Start shifting resources into building audio and video content
Don't fight the bot – The AI revolution is coming!
Automate as much as possible, including sales and marketing
HubSpot Customer Growth Panel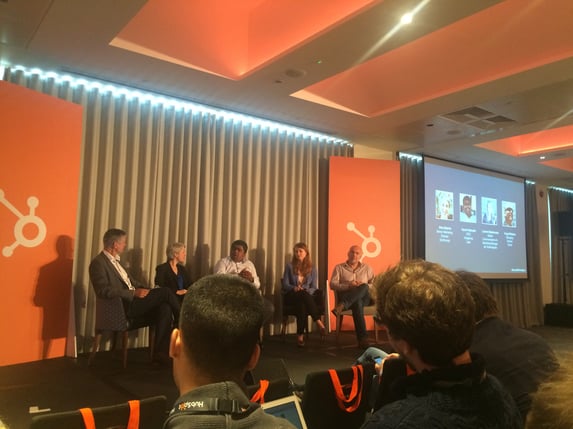 It was great to hear some of the HubSpot success stories from the amazing marketers who were invited to speak at the HubSpot Customer Growth Panel. They shared their stories from their humble beginnings with HubSpot to the major changes the inbound methodology brought to their organisations.
From "doing everything wrong", in their own words, having no sales or marketing teams or a peer group to talk to, and not having control over ROI to aligning their marketing strategy with their company values and making a great return on investment, the speakers all had some words of encouragement and advice for everyone on their journey to inbound success.
The stories shared by the HubSpot Customer Growth Panel were a great source of inspiration and reminded us that the path to greatness is a winding one, however, with the support of a great community and access to valuable resources, anything is possible!
If after reading about our great experience at Grow with HubSpot in London, you are just as inspired to become an even greater inbound marketer as we are, delve deeper into the inbound world with some key reading on the topic.
Here is our Grow with HubSpot inspired reading list for the superstar inbound marketer:
Inbound Marketing: Attract, Engage, and Delight Customers Online by Brian Halligan and Dharmesh Shah
The B2B Social Media Book: Become a Marketing Superstar by Generating Leads with Blogging, LinkedIn, Twitter, Facebook, Email, and More by Kipp Bodnar and Jeffrey L. Cohen
Welcome to the Funnel: Proved Tactics to Turn Your Social Media and Content Marketing up to 11 by Jason A. Miller
If after all that reading you would like to learn even more about inbound and how it can transform your business don't be shy get in touch with us for a free marketing consultation.