Ink pens (of every ilk), paper and typewriters may have been bumped out by computers, but copywriting is here to stay.
Why?
Because it helps to sell your product, service or message. It's the persuasive tongue, the whisper in the ear, the influential crony—the all-important call-to-action that commands response from those with whom you conversate—whether they know it or not!
(For those of us that shudder at conversate, no, it's not rap-speak, but dates from the early 19th century and is probably a back-formation from conversation—or so the OED says. And we must not go off topic, however enjoyable!)

What copywriting does for you
Copywriting is distinct from writing news or editorials (information and opinion, i.e. not requiring response). So, if you need your target market to buy your product or service, to sign-up to your email marketing, or to stay abreast of your company news—to keep in touch—then you need copywriting. Simple!

It bumps up your brand, fuels positive reaction, pushes key communications – it establishes your presence and makes your market remember you. Critically, it applies to all marketing portals, whether traditional (outbound) or digital (inbound)—from real-world print and advertising to the cyberworld of websites, blogs and social media.

Copywriting for websites
These days, your website may be the first point of contact for a potential customer/client. As mentioned in a previous blog, a website requires more than good looks to do the job required of it. It also requires content—not just the words on the pages but downloadable content (if relevant to your business). It also requires masterful direction in the form of calls-to-action that drive your visitors to click, click, click—for further information—to get someone to call them—to buy your offering. If you don't capture your audience quickly (and they don't hang around long unless you do), they will bounce off elsewhere—to rival sites with all channels in place, including a client portfolio, testimonials and case studies, FAQs, live chat and enquiry forms.

Ultimately, your website should dovetail looks and function to create an impression of your company, and we all know how much first impressions count, especially when it comes to elbowing out the competition.

Copywriting will help you to make the best impression—and outsmart competition.

Copywriting and Search Engine Optimisation (SEO)
Not only is copywriting rooted in a strong writing tradition, it also flexes and develops to meet the demands of modern technology. It plays a key role in SEO, the online activity that helps to improve search engine rankings—optimising your ratings with Google. By incorporating pertinent keywords, copywriting casts a virtual net across the internet that will help people searching using these words and terms to reach your website quickly and easily.

Copywriting will improve your web rankings.

The chemistry of SEO success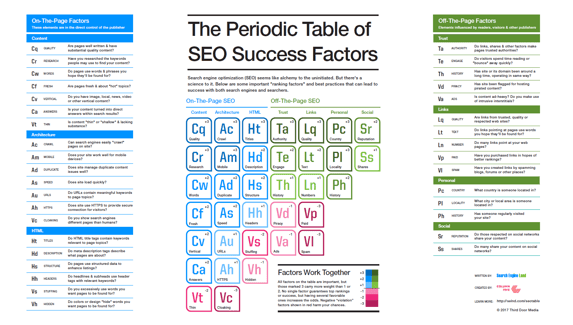 Infographic courtesy of Search Engine Land

Keep it fresh
A website with unchanging copy is a dead website and will disappear off Google's radar. Blogs and news updates are effective tools to keep your content consistently and continually fresh, with the added bonus of establishing your company as an authority in its industry—and with Google.

Copywriting will establish your authority—with Google, clients and customers.

Copywriting enhances User Experience (UX)
Did we mention about copywriting keeping up with all the trends? And UX is one of the many in this ever-changing industry. It's about knowing your target market—their ages, wants, needs, influences, values, where they live, income, constraints. By getting inside their v-skin, copywriting can be tailored to tick all their boxes, making access to your website, and interaction with it, a highly beneficial experience—for both parties. Ultimately, of course, it makes your visitors more inclined to buy.

Copywriting will UP your website's UX.

If you are searching for copywriting mastery to drive your digital marketing performance, presence and status, let's conversate!