Is email marketing part of your inbound marketing toolkit?
It should be—it's a powerful sales driver!
The Titchfield Dental Times proves it…
The Titchfield Dental Times—an Email Newsletter by Breckenridge
Our client, Titchfield Dental Health, is an award-winning private dental practice in Park Gate, Southampton.

They are warm, calm and caring and have a great track record in helping nervous patients overcome their fears.

With cosmetic dentistry, facial aesthetic treatments, dermal fillers and teeth whitening among their many capabilities, they are keen to broadcast their offering and support their patients at the same time.

This echoes their ethos and encourages patient loyalty, with the potential for referral to family and friends, too.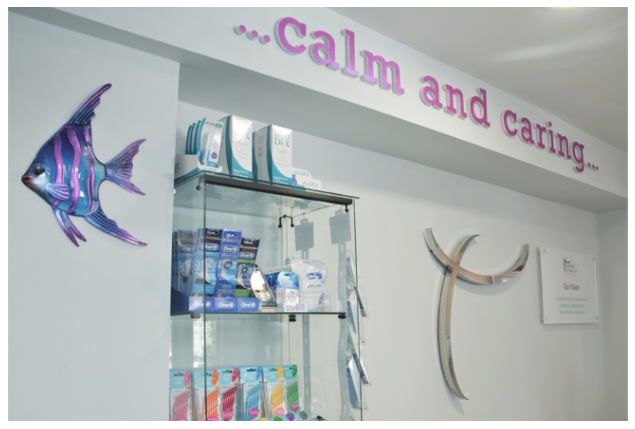 To achieve their aim, we wrote, designed, programmed and emailed a newsletter titled The Titchfield Dental Times. It's full of Practice news, services and dental tips and is aimed at creating a TDH family.

The flagship newsletter (a quarterly affair) was emailed on 14 November.


Outstanding results
Same-day stats revealed incredible levels of engagement...

• 1,528 people emailed—698 opened = 45.7% open rate: the average open rate for a marketing email is c. 12-20%
• Opened 1.176 times: with many readers opening and re-reading multiple times
• 9% went on to click a link: choosing to read more and showing direct engagement
• Most clicked link—Meet the Team: from the fourth block down and clicked 34 times. It's rare to see a link this low down overtake the top article for engagement, so this shows a real interest from their audience to know more about the people behind Titchfield Dental Health.

Links clicked
• 34: Meet the Team
• 17: Titchfield Helps the Homeless
• 15: YouTube Video of Dr Clare Chavasse
• 7: Write a Review

• Five new reviews since the newsletter was sent: Many of which can be linked directly back to the users who clicked links within the email.
• 5* ratings: 4/5 of these reviews are fully fleshed out rather than just a 5-star rating. This assures new users that this is a well-trusted Practice with happy, returning customers.
Is Titchfield Dental Health a happy client?

We are absolutely delighted with our newsletter. The results have met and exceeded our expectations. It confirms that we offer an exceptional service and have the customer feedback to prove it.

What better example of patient loyalty could we ask for? Let's hope it gets passed on by its readers and attracts more patients to our Practice.

Thank you once again, Breckenridge, for yet another fine example of your
inbound marketing capability and support.

Sharon Nanson, Practice Manager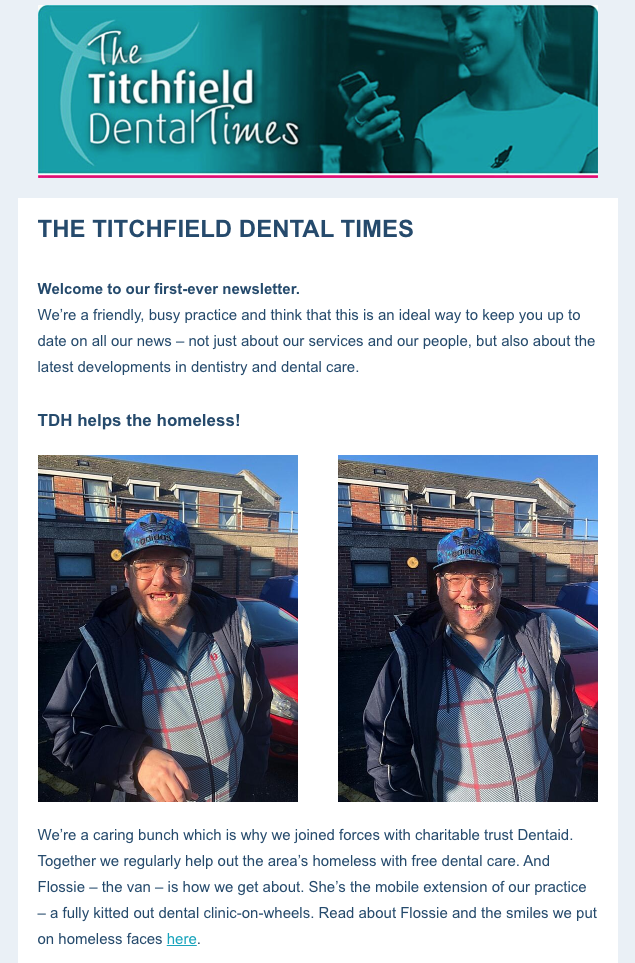 Breckenridge provides TDH with a range of HubSpot inbound marketing services that supports their digital marketing strategy.

Email marketing (newsletters) is the latest on a long list that includes content, web design and programming, PR and social media.
A few reminders...
Email marketing campaigns dovetail the varied channels of your digital marketing strategy to deliver your news/products/services direct to your audience. They will help you help you reach your sales targets and impact your Return on Investment (ROI).

Email marketing is way more effective than social media marketing
· 4 billion + active email accounts globally
· 40 x more effective at getting new customers
· Drives the highest ROI for marketers—£44 ROI for every £1 spent

Newsletters can be tailored to readers' preferences and behaviours and are, as The Titchfield Dental Times proves, a powerful generator of engagement, sales, loyal customers and loyalty to your brand.


Want to know more?

For a FREE discovery meeting that will fast track you to better sales, more customers and boosted brand loyalty.

For added reassurance, Breckenridge is a HubSpot Gold Certified Agency Partner and a Google Premier Partner.