And so another year fades – and what a colourful year it's been; a year of challenges, changes and triumphs, for us and for our clients. Before succumbing to the seasonal scrum, how about a whistle-stop waltz around a few of the highlights?

Ross Is Boss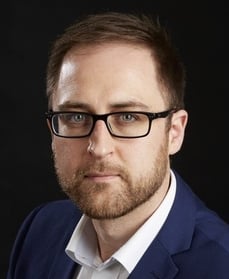 He's been with us for ten years, but this year Ross made the herculean leap from Client Services Director to Managing Director, with Colin as Chairman to keep an Olympian eye on proceedings.
Thanks to Ross's entrepreneurship, we've become a HubSpot Gold Partner and Google Premier Partner. Thanks to Ross we are HUGging all over the South coast i.e. organising and hosting informal HubSpot User Groups to help regional marketeers embrace the tools and tactics of digital marketing. Thanks to Ross we now organise and host annual WTF? (What's the Future) seminars, with leaders from HubSpot and Google, all geared to helping businesses future-proof their inbound powers.

HubSpotter Ross
There's nowhere Ross won't go to pick the brains of top-ranking digital experts – HubSpot Conferences, attended by thousands, in the UK, Ireland and USA. If you can't get him on the blower, look skywards – he's likely on the nearest jet to one of these key events.

Ross o' Groats
What is it with our MD and long distances? If it weren't for that ribbon of invisible elastic stitched between skin and co. he would be lost to us. This time he set his sights on Deloitte's Ride Across Britain for Kick for Life – a 100-mile rumble from Land's End to John o' Groats, with pain-racked nights spent in quick-pitch mini-tents. All in a good cause, of course – fundraising to a grand total of £47,000. He did it, too – but hasn't been on his bike since...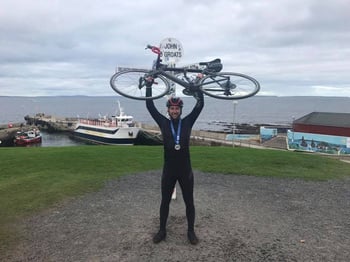 New PRo on the Block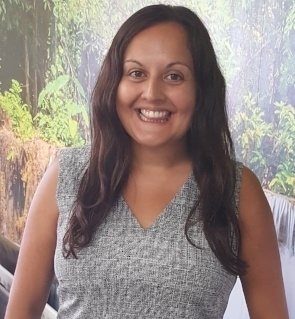 The arrival of Nicole Prema as PR Account Manager has boosted our PR capability yet further. A true professional, Nicole is seeing that Breckenridge benefits from her considerable PR acumen:
"I am excited to join Breckenridge a dynamic and forward-thinking marketing agency, who have such a wide menu of specialist services to offer to clients. I hope the passion and experience I bring to the new role will be an asset to the extensive portfolio of services that Breckenridge already delivers to an exceptional standard."
A woman of stamina, Nicole quickly took on the Great South Run – a 10-mile hurtle around Southsea, fundraising for her chosen charity, Cancer Research UK. She kept excellent company in her pop, Prakash, an impressive 11-times London Marathoner, and 20,000 fellow runners. Pooped? Not a bit. Nicole was at her desk on Monday morning, looking fitter than ever for the week's PR-ing.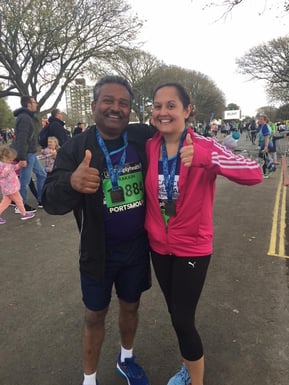 Stannah Matters
Stannah is our longest-serving client, with us since our start-up over 30 years ago. 2017 was a momentous year for Stannah – their 150th Anniversary – and we had to come up with the outbound and inbound marketing to blazon this big date across both real and virtual space. That's advertising, design, PR, social media, blogging –whilst juggling their regular publicity requirements, such as press releases and Lift Services stands at various trade shows.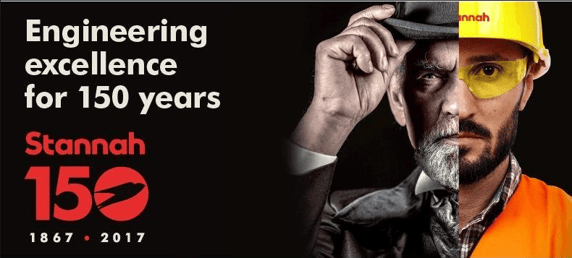 Stannah's Marketing Manager, Jo Monro, is, as always, delighted with our performance:
"This year we bedded in new systems and on top of that asked Breckenridge to manage our 150th anniversary promotion – to promote our anniversary and to change the way we promote our ourselves. The 150th anniversary was a step change for Stannah – focusing on our heritage, engineering capability and the people that help make Stannah a success. The 150th message resonated both externally and with the staff, helping to raise the company profile and strengthen the brand in so many ways.
"When other agencies ring me… I simply say I'm not interested. After all… why would I be? We've been together for years and I'm not about to split. It's about finding an agency that grows with you.
"Breckenridge just get it. Whatever 'it', I'm asking for them to deliver. Like the demands of modern marketing, I'm asking them to deliver multi-channel results and be agile, and they do it all with a friendly style. They're a great bunch … plus they deliver.
I'll be relaxing at Christmas, knowing that Breckenridge delivered every item of my marketing Christmas wish list despite the length of it!"
WTF? II

Our second What's the Future? event, held on the 10th May at the Ageas Bowl in West End – again geared to educate and inform marketers and business owners in the tools and tactics of digital marketing. Attended by big names from HubSpot and Google, with talks, workshops and website throwdowns – an annual must for organisations keen to keep a competitive edge.
Digital Divas
Never shy to rock our digital mojo, we are regulars at Digital Innovation Shows – one-day events that educate business owners and professionals in the latest digital tools, to increase lead generation, maximise ROI and stay ahead of competition, achieving growth in a digital world.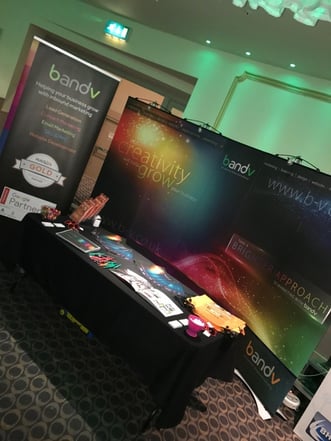 The Birth of Venus
In Renaissance Italy, Sandro Botticelli painted The Birth of Venus...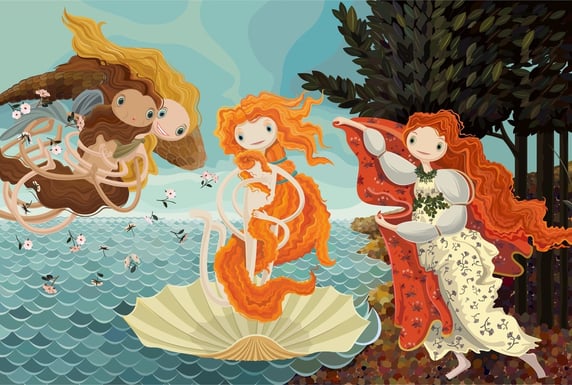 Spooky, as it foretold the birth of the Hampshire Venus Awards by over 530 years. How did he know? Anyway, Breckenridge sponsored the Awards for the second year running. At a grand final held at Solent University, the Marketing and PR Award was won by Kerry Smith, Marketing Manager for the Raymond Brown Group. Here's Kerry, receiving her Award from Breckenridge Chairman, Colin Breckenridge...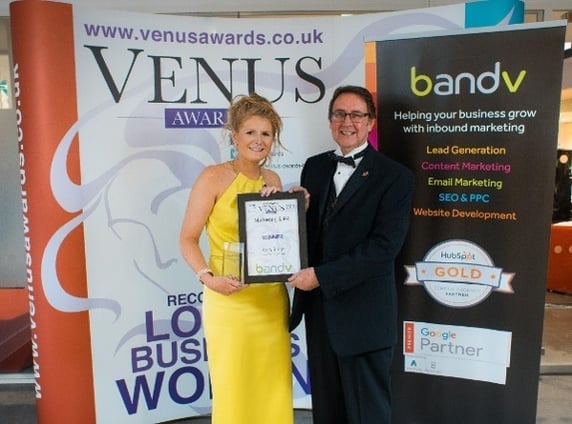 StannahTalk: Summer and Winter issues
StannahTalk is a relaxed, informative and amusing magazine that caters for a discerning audience of Stannah stairlift users. Readers always let us know how much they appreciate this free bi-annual feast, tailored to their needs and wants, and delivered direct to their doors.

Breckenridge is responsible for the whole package, from design, research and writing to production and distribution. We must be doing it right as the winter 2017 issue's distribution totalled at 27, 682. That's a 2,500 increase every six months since the first issue went out in 2011.




Liam's Love Life


In 2016 we saw Liam and Stripy the tiger learn about lift safety, in Liam Loves Lifts!(shortlisted for the UK Social Media Communications Awards 2016) – a child lift safety campaign on behalf of the Lift and Escalator Industry Association (LEIA). 2017 saw Volume II roll off the press

–

Liam Loves Escalators! You guessed it

–

how Liam and Roary (his stegosaurus) learn to navigate escalators safely.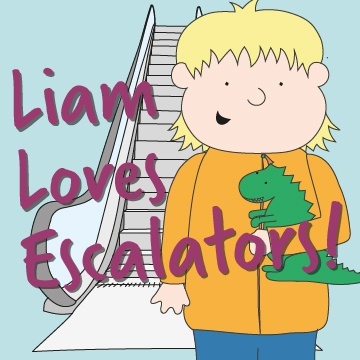 Breckenridge Academy
Launched on Thursday,2 November at the Hilton, Ageas, West End, Southampton, the Brecknridge Academy is dedicated to hands-on, 1- 1 training tailored to your business and marketing needs.
Building on the experiences of our popular What's the Future and Solent HUG events, the launch showcased Breckenridge's wide range of digital expertise. Covering topics such as Inbound Marketing, Search Engine Optimisation (SEO) and Google's ranking process, it included a series of top-line insights into these crucial digital topics that can often leave businesses feeling in the dark and overwhelmed.
FREE GDPR Seminars
To ready businesses for GDPR, Breckenridge held FREE seminars, in conjunction with our client, W8Data – direct marketing data cleansing experts. With a 25 May 2018 deadline looming, it is imperative that everyone is fully compliant. Contact us for further information...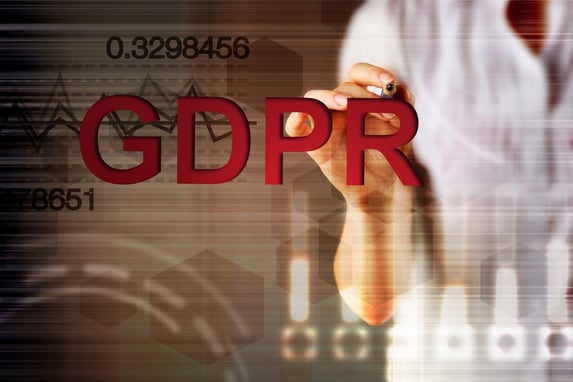 Inspiring Clients
Gracious and magnanimous as we are, we just have to mention client successes, not just our own. So it's a whopping Big Hand to the Big Win of our client, Inspired Interiors – Contractor of the Year, Consortium Claims Awards.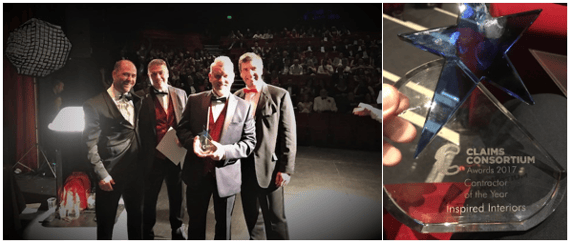 MD, Lee Unwin, and his team beat big guns on the national construction scene, such as BSA Regal and Slayco. Well done, Inspired Interiors – who aren't shy about what they think of bBreckenridge's services...
"Over 4½ years ago, when we started up Inspired Interiors, we carefully researched the local marketing companies that could provide us with the best professional assistance that would help enhance the sales and profits of our company by not only providing more exposure but also by providing targeted contact, which meant we could reach potential customers who are more likely to be interested in the services we offered. Once we finished our research, Breckenridge's creative marketing stood out a mile!
"Since that time, Breckenridge has looked after and maintained our social media, including the Company's website, Facebook and LinkedIn accounts. They have also drafted many case studies and promotions which have been carefully released during a chosen marketing campaign.
"In short, appointing Breckenridge is one of the most positive things we could have done at start-up and we look forward to continuing our mutual and beneficial relationship with them for the long term."
Well done Lee & Co. - we look forward to working with you in 2018.
Itchen Prospectus Re-design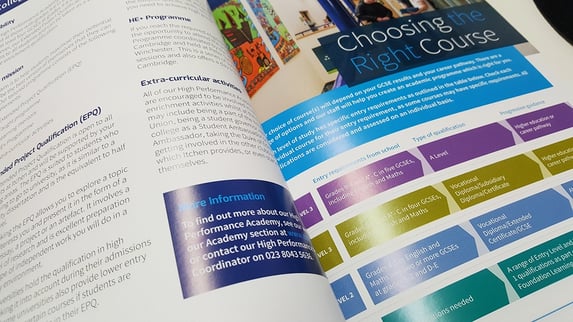 "We're very happy with how our new prospectus looks and we've already received lots of compliments from staff around the college. I'm sure it will prove to be a big success throughout the new year. Thanks to the design team at Breckenridge for all of their hard work."
Fiona Walsh, Senior Marketing Officer, Itchen College
Inhouse Etceteras
Muttering
Where would we be without our mutts
–
apart from quieter, cleaner and less fragrant. But this is not what it's about; pooches make everything better (apparently). Occasionally bouncing and lolling across our carpet-tiled floor are labradoodles, Monty & Millie (thank you, Jayne), and French Bulldog, Frankie (thank you, Miles)...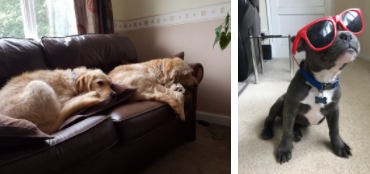 And to whom do we owe our tradition of in-office Muttering? Jack Breckenridge, a Westie who now romps the rolling Hills of Sky.
#WeRememberJack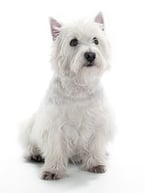 BierFester
Did you know that our Production Manager, Jayne, is a Teutonophile?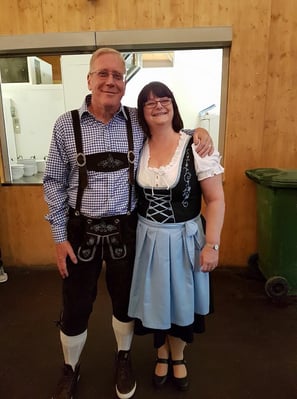 Many of her many holidays are spent on German soil, albeit more moseying than alpine Spazierengehen. Stuttgart, Ulm, Heidelberg, Berlin, Dresden, Munich, Leipzig, Dachau, Nuremberg, Cologne, Würzburg – she's been there, done them, bought the lederhosen and dirndl. So, it came as no surprise when she and her husband sloped off to Oktoberfest in Munich, the world's largest Volksfest (beer festival and travelling funfair). That's Beer, Oompah & Misbehaviour, but for a mere three days, not the whole 18 days. Which ran out first – cash or inclination? She's not telling. Next year, J2 are off to Augsburg – why? because it's near Munich and the Oktoberfest.
AdminWhizzer
Emma, our Admin Manager and all-round human dynamo (can't sit still for five minutes) once again threw herself into the cancer charity, Race for Life. Kitted in pink (her favourite colour – we're working on it) she slaughtered the 5K course around Southampton Common, along with hundreds of other pinkies. See her in 2018? You bet! That's Izzie, her Border Terrier. Oh, no! Another Breckenridge mutt...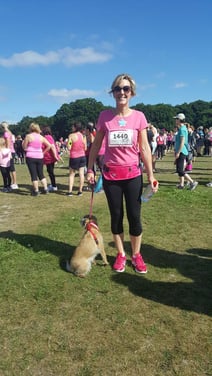 Li'l Sprouts
Husbandry is alive and kicking at Breckenridge, with four sproutlets pushing out their first green shoots.
Two Wee Fishies
Two Piscean babies wriggled into the Breckenridge pool. First to arrive in March was Zack – a second son for Jamie (web developer) and Nicola. A few days later came Arlo, first born of our MD, Ross, and Emma. We didn't see a lot of Ross and Jamie in March...
A Gemini Bundle
What better birth sign for twins? Two more boys, Evan and Alfie, joined Clan Breckenridge
–
via Ross's brother, Scott, and Paula.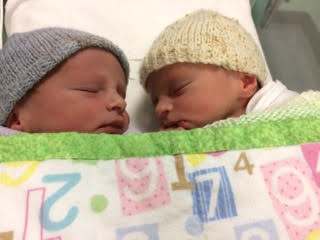 So that's three more Breckenridge boys to complement first-footers, Isaac and Joseph, Ross's sister's sons. A 5-a-side football team in the making? You bet. The Breckenridges are firm footie fans of "Come on You Reds!" Southampton Football Club.
EoQs – the Kipper's Knickers
Every three months, on a Friday afternoon, we go out to play. This year's End of Quarter expeditions have tested our strengths (many) and weaknesses (even more many).
Bleating
A jolly afternoon of bowling and eating: Stop 1. saw us in
Casa Brazil
, temple of meaty glee. Luckily, we have but two vegetarians onboard, and there were plantations of salads to keep them occupied. Stop 2. saw us work it off at the
Hollywood Bowl
, where we discovered that full bellies and bending is not the best ball-lobbing combo.
The Archers
At last, the romance of mediaeval England. Robin Hood! Longbows! The Battle of Agincourt! Something like that.
Woodmill Outdoor Activities
, not Sherwood Forest, saw us draw gut to chin with varying degrees of success. Thankfully, there was not a King Harold episode in sight, despite the outstanding attempts of
us greenhorns
. Then off to a bowman-friendly watering hole.
Chocizza Eaters
England met Italy in a slalom of chocolate and pizza. No, not a doughy mass of cocoa, olives and anchovies, but a pleasant
pomeriggio
making sweetie pizzas in
Frederick's Chocolate Shop & Cafe,
in The Marlands retail emporium. Then off to an infant-friendly watering hole.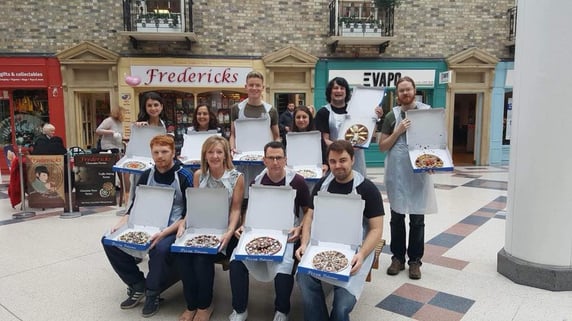 And finally...
An Italian Masquerade ~ Breckenridge's Big Xmas Ball
What better way to wind up the year than with an evening of mystery and elegance – thanks, once again, to
Best Parties Ever
and their
Italian Masquerade
, a masked ball awash with feasting, fizz, fun and Cirque du Soleil-style spectacle…

Where sophisticated people behaved themselves...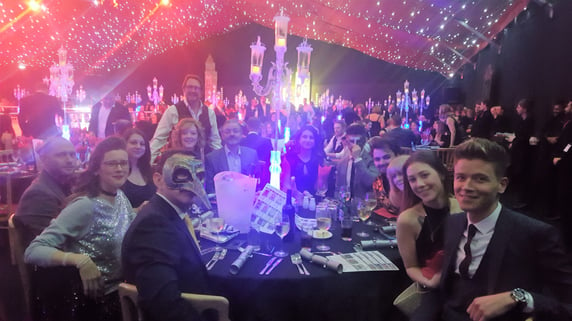 Where bumper people competed with bumper cars...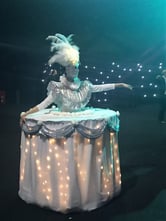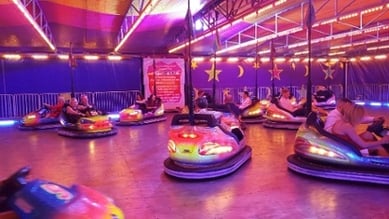 Where vice-lovers emptied their purses – all for charity, naturally...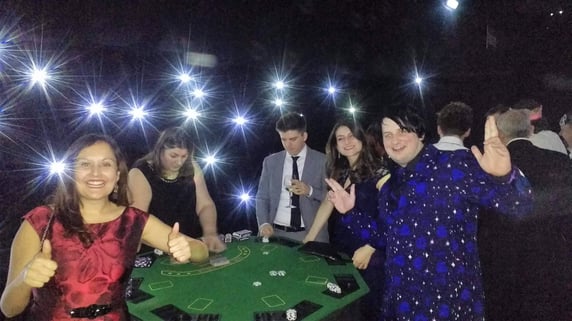 Where revellers forsook their masks (never a good thing), to make way for Strictly-style dance-floor struttings...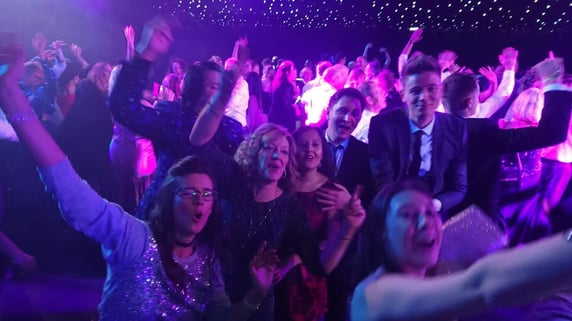 So what's in store for Breckenridge and its clients in 2018? Stay in touch and you'll find out. Come to our events. Read our blogs. Download our free website content. Look for us on social media. Above all, "Get in Touch!" – for free advice on how to stay ahead in a fast-changing digital industry.
To unmask insights into inbound-marketing...
Clicca Qui!