We live in a world which is heavily dependent on Social media now and Instagram is one of the biggest photo sharing platforms in the world, so why would businesses not want to take advantage of this?
Instagram is a platform that has been growing at a very fast rate since its launch back in 2010 and it only seems to be getting bigger and bigger. Instagram is currently the fourth most popular Social Network in the UK only behind Facebook, YouTube, and Twitter with around 80 million photos shared every day.
Recently there was a programme on the television about the 'rich kids of Instagram' which displayed how wealthy children were using Instagram to highlight their affluent lifestyles with many of their profiles having thousands of followers so in terms of advertising it's marketing gold.
Instagram also has an array of celebrities who are using Instagram to promote products and are being paid by companies to advertise them on their behalf so companies are clearly taking note of this opportunity to boost their sales as well as acting as a chance to build brand awareness, so shouldn't your company?
In this blog, I have listed 5 reasons why Instagram can work for you and how to go about achieving it.
1.Brand Identity
Instagram acts as the perfect tool to increase your brand identity. Instagram is all about visuals so it's important for businesses to post content that encourages engagement and tells their audience what their company is all about. Visual Marketing can be crucial when it comes to giving your business a chance to create its own persona as well as keeping customers up to date about your company's daily activity and important company news.
It's essential that companies understand the platform's context and post the right content in order to connect with their audience effectively. For some companies this can be a difficult task since not every industry has access to the sort of mouth-watering visual content that you may find on a restaurant's Instagram page. That's where lifestyle content can be the way forward as it connects well with Instagram audiences.
2. Instagram allows you to show Your Company's Personality
Every business has a unique personality and a story to tell and Instagram is the perfect platform for showing off your business' personality and sharing your story.
It's easy to highlight some of your company's clear values and personality through image and video content and it offers customers a true insight about what your business can offer them.
Try to post fun and engaging pictures as this sort of posts generally go down well with followers and it helps to make your posts stand out from competitors.
3. Drive Traffic to grow your business
The main reason companies use social media is to drive traffic and to grow business so it's worth understanding how Instagram can do this for you. Unlike Facebook, LinkedIn, and Twitter you cannot share hyperlinks in either of your captions and comments but you can add a link to your bio. Use this wisely by directing followers to click on the link from your caption on each post you make.
The link you choose to add to your homepage is completely up to you so whether it's a blog link or company website you can drive traffic wherever you want to go. Due to the fact you can change your link as often as you like, this will in turn, allow you to strategically drive traffic top the right type of content for your business.
4. Instagram Insights
The recent incorporation of Instagram Insights for business accounts now allows you to learn more about your followers and the people interacting with you. It's a useful free tool which allows you to view insights such as the location, gender, and the age range of your followers. It's also helpful to see what content your audience engages with the most.
It acts as a good aid to see when it is the best time to post and what sort of content you believe your followers would like to see which will in turn, create more engagement for your page.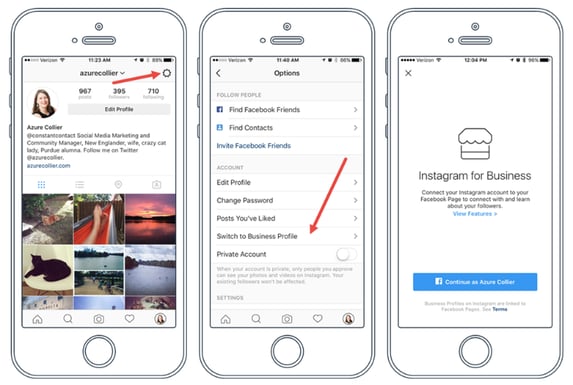 5. User Generated Content
User generated content is another important feature when it comes to acquiring large number of followers. Taking advantage of your followers uploads should be key in your marketing strategy.
Create a unique Hashtag and encourage your followers to use it for their own posts. Make sure you put a link to the hashtag into your business account's description. Another clever way of encouraging your competitors to share and use your hashtag is to run competitions to boost numbers and get your audience to engage.
Hopefully, this blog has given you a glimpse of some of the key features that are associated with using Instagram for business purposes and will act as a guide about how to get the best out of it.