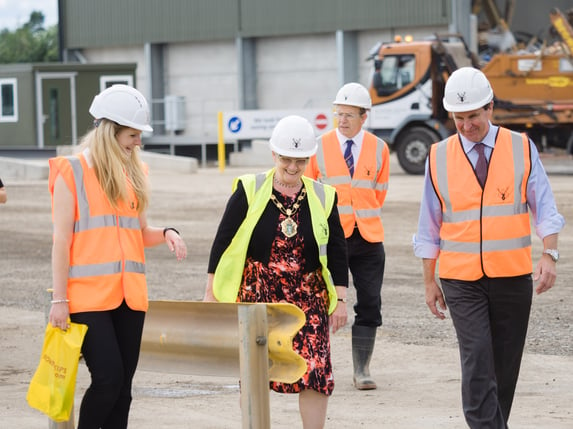 As the evening of the prestigious Hampshire Venus Awards draws closer, we wanted to reveal a little more about each of our fabulous finalists in the Marketing & PR category, sponsored by bandv, starting with Kerry Smith.
Kerry is the Communications & Marketing Manager for the Raymond Brown Group who are leaders in recycling and waste management, incinerator bottom ash processing and who also operate many quarries and aggregate recycling facilities across Hampshire, Dorset, Wiltshire, Oxfordshire and Berkshire.
Based at the group's Head office in Chandler's Ford, Kerry began her career at Raymond Brown in 2007 as Marketing Assistant, with Raymond Brown supporting her through university on a day release programme. Since then, Kerry has progressed to Communications & Marketing Manager; recently celebrating her 10-year work anniversary with the company.
Reporting to the company's Chief Executive, Kerry leads the Raymond Brown Group's brand and reputation management as well as all communications and marketing activity across the business.
Kerry is clearly extremely passionate about her role within the business and the Raymond Brown brand. She has been instrumental in their growth and expansion over the last 10 years, having successfully rebranded the group and its businesses.
For Kerry, one of the projects she is most proud of is the Community Matters Initiative, which Kerry herself introduced 5 years ago and is all about engaging with the local community including schools, colleges, universities and local businesses.
Kerry says,
"Community engagement and looking after our people has always been a key priority for our business and I am so proud of and passionate about our community matters initiative as I have seen the positive impact it has first-hand."
Competitions
Kerry explains,
"We wanted to find a way to engage with local schools and teach them more about what we do as a company, as well as about the wider issues of sustainability and recycling. We've achieved this by regularly running competitions within local schools throughout the Hampshire and Dorset area. In fact, this is how the logo for our community matters initiative was created. We ran a competition for local school children to create a design for the logo which was won by a Hampshire schoolgirl.
Another of our competitions is when Raymond Brown invites the students to use their imagination and create designs for their lorry fleet, based around the themes of 'Reduce, Reuse and Recycle'. The winning poster designs are then hand-picked by the board of directors and then re-produced and transferred onto brand new lorries. Each branded lorry is then named after the school who produced the design.
Then it's time for the big reveal! Kerry says,
"the winning designs are kept a secret until the big unveiling ceremony when the branded school's lorry visits each playground so it's a real surprise for the children and the teachers. Each winner gets a book voucher and a branded vest. The school also receives a large canvas of the lorry, complete with the winning design, which they can proudly display."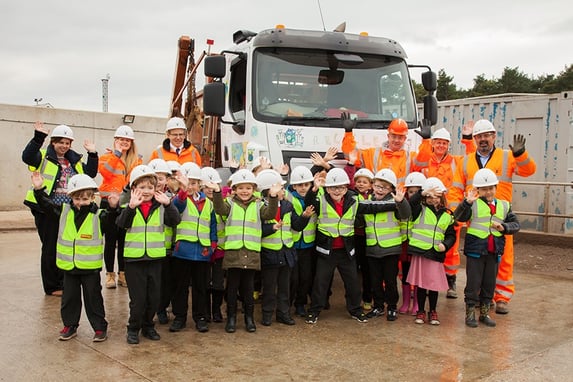 Since the start of the Community Matters Initiative, the company have engaged with over 2,500 children from across Hampshire and Dorset and have received nothing but positive feedback both internally and from the local community, which Kerry says is delighted with.
"I'm thrilled that we've managed to engage with such a large number of schools throughout the community as it's essential for future generations to understand the importance of key issues such as sustainability, the environment, recycling and safety.
Raymond Brown also undertake assemblies/presentations within schools on these topics."
Site Visits & Community open days
Raymond Brown also offers site visits to local schools, colleges, universities and the wider community including regular full open-days and open evenings.
This offers local residents and businesses the chance to have a guided-tour around the site and find out more about what Raymond Brown does; as well as the chance to grab a bite to eat from one of the pizza or burger vans, hired specially for the event.
Career Events and Community funding
As a company Raymond Brown are committed to working with schools, colleges and community groups to develop programmes that educate and inspire the future of their industry.
Passionate about building a skilled workforce for the future and interest in the recycling and waste management industry, the company partners with local schools and colleges to offer a wide range of educational initiatives such as classroom lessons or lectures, provision of learning resources or donations and regularly holds career events.
As a testament to the company's excellent commitment to the community, earlier this year Raymond Brown received an Investors in People Accreditation, something which Kerry was obviously thrilled about.
"For me it was the cherry on the cake as the accreditation highlighted our company's commitment to attracting, retaining and nurturing good people, something which having been put through University by the Raymond Brown Group myself, I am pleased to say I have first-hand experience of.
At Raymond Brown we are proud to have such a dedicated team of talented professionals and our company values and our work/excellent relationship with the local community clearly demonstrates this.
I have always been extremely passionate about raising the awareness of hardworking women in business, particularly within industries such as my own and it feels amazing to be a Venus Finalist and to be recognised. I can't wait to attend the awards and celebrate with a room full of such talented women."
bandv would like to wish Kerry the best of luck at the Venus Awards.