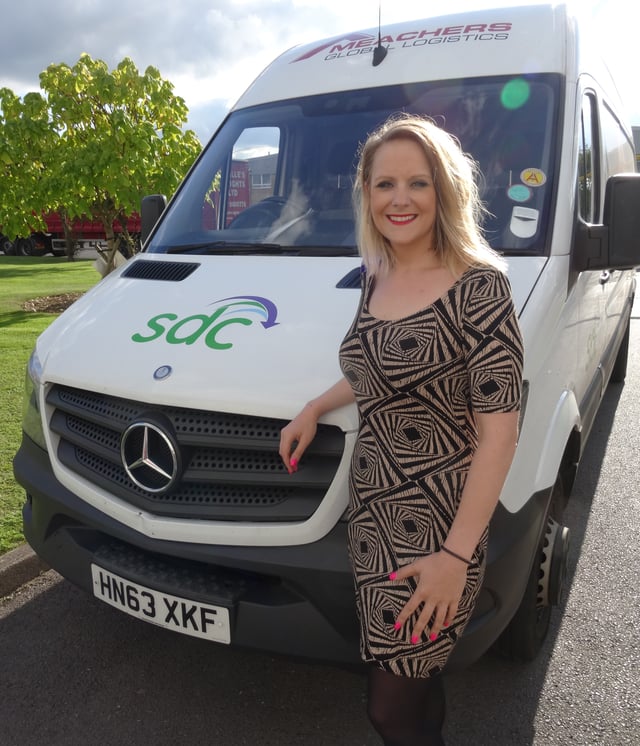 Hannah Powell is one of the talented finalists in the Marketing & PR Category of the prestigious Hampshire Venus Awards sponsored by bandv. Here Hannah reveals more about what her highlights have been with Meachers Global Logistics since she joined the company just over a year ago.
Hannah is the Marketing Manager at Meachers Global Logistics, one of the UK's leading independent providers of international freight and transport logistics services. The company provides customers with complete solutions to their freight forwarding, supply chain management, UK warehousing distribution, training, logistics and contract management requirements.
Hannah manages all the marketing activity at Meachers, across printed and digital channels both online and off-line and at events, as well as helping to increase the brand awareness of the company.
Hannah has been the Marketing Manager at Meachers Global Logistics for just over a year and is clearly enjoying being with the company;
"I love that I have the opportunity to help promote Meachers Global Logistics and highlight the complete solutions that they can offer to customers within the transport and logistics industry."
In her relatively short time with the company Hannah has achieved some impressive results.
One of the things Hannah is most proud of is the company's website re-design, a project which as Marketing Manager Hannah has led and as she explains, took a very novel approach with;
"We needed a website that covered the complete range of different solutions Meachers are able to offer to customers within the transport and logistics industry. It's for this reason, that from day one, I made sure employees across the business got involved.
We put together a mixed group of staff from across the company and asked them for their honest thoughts and feedback about what they thought an end-user (and potential customer) would want from our website.
The comments were so insightful and really valuable so I used this to help put together a technical brief for the website re-design."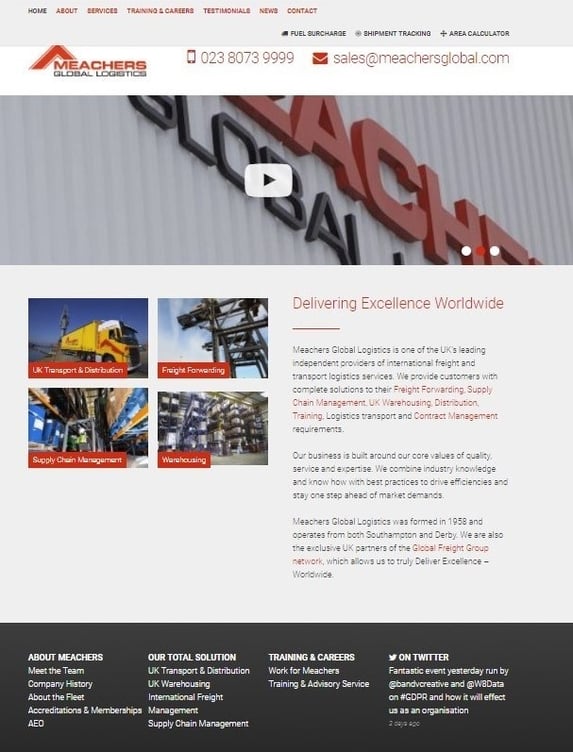 The technical brief included a high level of detail about exactly the kind of layout Meacher's needed for their website as well as the types of Calls to Action and the landing pages required.
Hannah says,
"The staff feedback from the focus group also really helped me when I was writing the content for the website.
I'm so pleased that I decided to take this approach as I think it helped us to end up with a finished, new-look website that really fits the business, both in terms of our brand identity and our business needs. It allows our customers or potential new leads to easily find details of the services they are looking for.
I also found this exercise was an excellent tool for employee engagement. At Meacher's we have a highly-skilled and diverse range of employees so it was essential to get this across on our website and by getting staff directly involved with this project, I feel that we have successfully achieved this."
The website re-design was part of a much wider new marketing strategy that Hannah is still putting into place at Meachers but, another outstanding result that speaks for itself is the pay-per-click model that Hannah is now using within the business. Since using this method Hannah has seen a decrease in monthly spend by 50% and an increase in engagement by 25%
Overall, since Hannah joined Meachers, she is proud of the targeted approach she has led the business down. All their communication with existing customers and potential new leads is now much more targeted, with only case studies, testimonials and blogs that are relevant to each individual being sent to them. The feedback Hannah has received on this new approach so far has been extremely positive and the content received by end-users is now much more valuable to them.
Hannah's new marketing strategy has clearly been successful as the company's rising profile demonstrates.
Hannah says,
"This is a really exciting time for Meachers and this year we have received industry recognition that highlights this. This year Meachers Global Logistics won the Motor Transport Partnership Award, one of the most prestigious accolades in the industry. We have also been shortlisted in the 2017 Logistics & Supply Chain Excellence Awards in the 'Logistics and Distribution' category."
Commenting on reaching the finalist stage of Hampshire Venus Awards, Hannah says,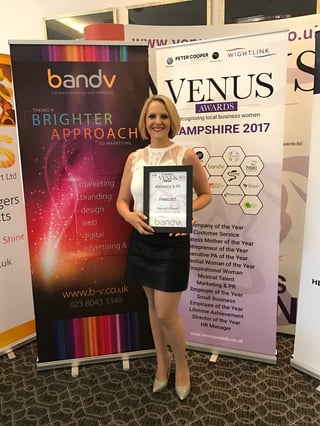 "Nominations this year for the 15 categories reached over 1,100, so I'm delighted to be one of the three finalists in the PR & Marketing category. I'm really looking forward to attending the Hampshire Venus Awards and feel honoured to be in this year's finals.
bandv would like to wish Hannah the best of luck at the Venus Awards.